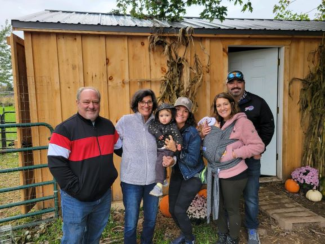 It's hard to believe it's 2022! Well 2021 sure brought some challenges to us all but certainly another year to count your blessings. 
I couldn't be more grateful for my clients and how my practice has grown, even in a unique environment.  I think now more than ever people are seeking answers among the lingering fear and confusion.  Let alone the amount of financial burdens coronavirus has put on so many families.  So thank you for sending over the referrals, you are helping my practice grow one at a time.
I am truly blessed for the people I work with, the clients I have and the tremendous amounts of resources.  Although everyday is new and can be a challenge I must say I enjoy every minute of it. I always tell my clients, no job is worth your happiness or health. 
I am pleased to announce I am an Aunt again! We welcomed Carmella Rose Herbers into the world on August 26, 2021.  Yes, another girl!  My father is just happy to have at least one other male to commiserate with! With that being said I am blessed, we have all been healthy and able to spend time together.
To 2022, a New Year with new beginnings!  May it bring health,happiness and more blessings.  Cheers!